OWL Virtually in the Classroom - Primary
Last updated on
Sunday, September 5th, 2021
Experience type:
Virtual Field Trip
Program Description
Join OWL (Orphaned Wildlife) Rehabilitation Society in this unique virtual experience to learn about the amazing species of raptors that call BC home, the features and adaptations that make them unique, their life cycles, and about the dangers they face and how you can help. You also get the chance to meet some of OWL's Raptor Ambassadors up close on camera! Each program will be focused to each grade level that is participating.
Have a specific topic in mind? We are more than happy to work with you to make the program you are looking for. Some popular requests include focusing on a specific species, such as owls or just hawks, life cycles, or food chains.
The program also comes in a 40-minute length for those who don't have time for a 60-minute program or for the younger grades. 
For more information or to book, please visit: https://www.owlrehab.org/education/virtual/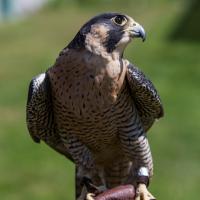 Big Ideas
Plants and animals have observable features.
Living things have features and behaviours that help them survive in their environment.
Living things have life cycles adapted to their environment.
Living things are diverse, can be grouped, and interact in their ecosystems.