Pigeon - Facing Choices, Making Decisions during the Holocaust 
Last updated on
Friday, September 18th, 2020
Experience type:
Virtual Field Trip
Program Description
This workshop consists of a short film, Pigeon, followed by an interactive presentation by a VHEC docent on Zoom. Students learn about the systematic persecution of Jews in France and acts of rescue during the Holocaust. Questions by the workshop facilitator foster critical thinking and ideas about social responsibility with students. The interactive workshop stimulates student thinking about the choices we all make and our motivations for making them.
Sessions run 60 minutes for secondary school classes, 45 minutes for elementary school classes, or as per agreement with the Centre.
Recommended for students in grades 6 to 12
Recommended class size of a maximum of 30 students
Free of charge until December 2020, thanks to the generous sponsorship from the Diamond Foundation
For more information and bookings visit: https://www.vhec.org/school-programs/classroom-workshops/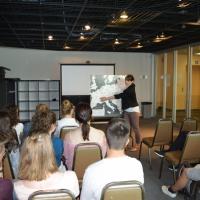 Big Ideas
Disparities in power alter the balance of relationships between individuals and between societies.
Emerging ideas and ideologies profoundly influence societies and events.