Primary Voices: Teaching Through Holocaust Survivor Testimony
Last updated on
Friday, September 18th, 2020
Experience type:
Online Resource
Program Description
This web-based Holocaust educational resource creates opportunities for students to interact with Holocaust survivor's accounts of persecution, loss and survival. Educators and students can engage with Holocaust testimony in a lesson, within a larger unit, or as part of an independent research project.
Recommended for students in grades 8 through 12, with adaptations possible for intermediate grades
Includes excerpts of digitized audio-visual testimonies from the VHEC's survivor testimony collection
Contains lesson plans, student worksheets and classroom activities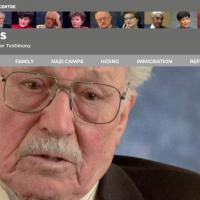 Big Ideas
Exploring stories and other texts helps us understand ourselves and make connections to others and to the world.
People understand text differently depending on their worldviews and perspectives.
Questioning what we hear, read, and view contributes to our ability to be educated and engaged citizens.
Texts are socially, culturally, and historically constructed.
Collective identity is constructed and can change over time.
Disparities in power alter the balance of relationships between individuals and between societies.
Emerging ideas and ideologies profoundly influence societies and events.