Welcome to Fresh Roots
Last updated on
Wednesday, February 6th, 2019
Program Description
Get a taste of what Fresh Roots is all about!  Activities will vary depending on age, size of group, and the needs of the farm, but you can expect to learn about how Fresh Roots came to be, learn about food and food systems through play, participate in farm work, and try some farm-grown food!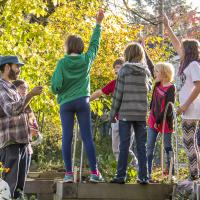 Big Ideas
Communities include many different roles requiring many different skills.
Strong communities are the result of being connected to family and community and working together toward common goals.