BMSC LIVE! Big World of Plankton!
Last updated on
Friday, September 11th, 2020
Experience type:
Virtual Field Trip
Program Description
What exactly is plankton? We will collect a sample right from outside our front step and show you another world! These tiny creatures are found in all waters and have very cool life histories.
This one is a great follow up to the Oceanography trip!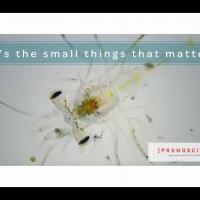 Big Ideas
Multicellular organisms have organ systems that enable them to survive and interact within their environment.
Multicellular organisms rely on internal systems to survive, reproduce, and interact with their environment.
Evolution by natural selection provides an explanation for the diversity and survival of living things.
Life processes are performed at the cellular level.
Cells are derived from cells.