The Farm is Your Canvas
Last updated on
Tuesday, April 6th, 2021
Experience type:
In-Person
Program Description
Beyond just a place for growing food, the farm is the perfect spot to exercise your creative muscles. Whether it's the stark beauty of winter foliage, the rich greenery that follows spring rain, the beautiful blooms of summer, or the striking colours of fall, nature provides a natural palate to inspire the artist inside all of us. We'll explore both Loutet Farm and the surrounding forest, gathering material and learning about how we grow such a diverse range of vegetables, fruits, and flowers. Students will learn how some plants have been used for many generations to create works of art, natural dyes, and more. Hands-on opportunities abound in this field trip, with a chance to make their own nature-inspired art throughout the visit.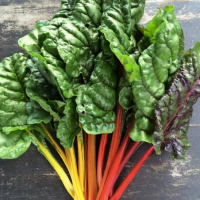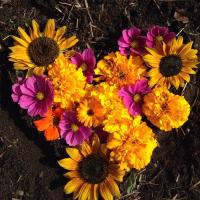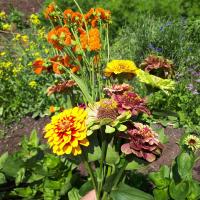 Big Ideas
Confidence develops through the process of self-discovery.
Everything we learn helps us to develop skills.
Daily and seasonal changes affect all living things.
Humans interact with matter every day through familiar materials.
Plants and animals have observable features.
Living things have features and behaviours that help them survive in their environment.
Observable patterns and cycles occur in the local sky and landscape.
Living things have life cycles adapted to their environment.
Living things are diverse, can be grouped, and interact in their ecosystems.
All living things sense and respond to their environment.
Engagement in the arts creates opportunities for inquiry through purposeful play.
People create art to express who they are as individuals and community.
Creative experiences involve an interplay between exploration, inquiry, and purposeful choice.
Engaging in creative expression and experiences expands people's sense of identity and community.
Experiencing art challenges our point of view and expands our understanding of others.
Through art making, one's sense of identity and community continually evolves.
Stories and other texts can be shared through pictures and words.
Curiosity and wonder lead us to new discoveries about ourselves and the world around us.
Exploring and sharing multiple perspectives extends our thinking.
Healthy communities recognize and respect the diversity of individuals and care for the local environment.
We shape the local environment, and the local environment shapes who we are and how we live.
COVID Precautions
The Edible Garden Project is welcoming groups under 30 participants for in-person outdoor field trips to Loutet Farm. Groups may be further split up to ensure adequate physical distancing is maintained. Tools will not be shared if used during a trip, and are always washed and disinfected after handling. There is a hand washing station on site, and next door at Loutet Park (where washrooms are also located).
Additional Notes
All tours available by request during most daytime hours, and duration can be tailored to your group's needs (price will vary accordingly). Contact EGP to inquire further. 
Loutet Farm is located beside Loutet Park in North Vancouver. Washroom facilities are available while the park is open (generally from sunrise to sunset), and are wheelchair accessible. Although we do not have an official lunchroom, the farm does have a covered area with a sink, hand washing station, and food prep area if needed. Regardless, please dress for an outdoor trip and consider potentially variable coastal weather.
There is free paved parking near the entrance to the farm (lot shared by Loutet Farm, Loutet Park, and Gerry's Garden). Once inside the farm, paths are wood chips, and there are no steep inclines on site. We may also use the dirt trails of the forest and/or the grass field during the field trip. There are no animals on site, but other allergens may be present - please contact EGP directly at schools@ediblegardenproject.com if you have questions or concerns.