FREE - Video Art Lessons
Last updated on
Tuesday, December 1st, 2020
Experience type:
Online Resource
Program Description
The School Art Program has moved online! We have produced art making videos and at-home lessons using easy to find materials and exploring art concepts and techniques.  Whether for classroom use, homeschool students, or family fun, these videos engage with contemporary art in a fun and accessible way. Join us today!
For all of the latest content and updates, check our RAG@Home Art Activities page.  For a quick start, check out one of the videos listed below.
For the Labour's trace gallery exhibition, the Richmond Art Gallery has created two free video art lessons that can be done at home or in the classroom.  Exhibition artists Amy Malbeuf and Karin Jones explore cultural and personal identity through their artwork, and the ways in which identity shapes our experiences of the world.
In the first video art lesson, students will be introduced to the history of Métis beadwork and the artwork of Métis artist Amy Malbeuf. A gallery educator then demonstrates the technique of pointillism and guides students to make an artwork inspired by beadwork traditions.
In the second video art lesson, students will be introduced to the artwork of Canadian artist Karin Jones, and hear her discuss the way she explores her African-Canadian identity through art-making. A gallery educator then demonstrates the technique of making wearable artwork through the technique of making paper beads.
A teacher guide for the Labour's trace gallery exhibition is available if you wish to expand on the lessons with classroom discussions and extension activities.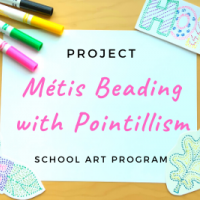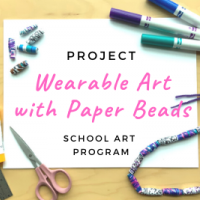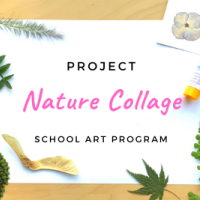 Big Ideas
Engagement in the arts creates opportunities for inquiry through purposeful play.
Creative expression develops our unique identity and voice.
Inquiry through the arts creates opportunities for risk taking.
Creative experiences involve an interplay between exploration, inquiry, and purposeful choice.
The arts connect our experiences to the experiences of others.
Creative expression is a means to explore and share one's identity within a community.
Exploring works of art exposes us to diverse values, knowledge, and perspectives.
Artists experiment in a variety of ways to discover new possibilities and perspectives.
Works of art influence and are influenced by the world around us.
Engaging in creative expression and experiences expands people's sense of identity and community.
Experiencing art is a means to develop empathy for others' perspectives and experiences.
Engaging in the arts develops people's ability to understand and express complex ideas.
Experiencing art challenges our point of view and expands our understanding of others.
COVID Precautions
This program consists of online videos and lesson plans, and the art activities utilize easy to find art materials students will already possess in their homes or school setting.
Additional Notes
For more information, visit the Richmond Art Gallery website.