Historical Bins
Last updated on
Thursday, August 27th, 2020
Experience type:
In-Person
Program Description
Bringing the past to you! In the comfort of your own space, Mackin House staff will lead a history lesson using PowerPoint, an activity, and a bin full of historical Artifacts. A great interactive learning experience for all ages, participants can handle and engage with artifacts, ask questions, form group discussions and enjoy fun activities related to the artifact's historical context. Topics: 1) Communication & Technology 2) Maillardville Community 1909 4) Evolution of Music 5) Pioneer Life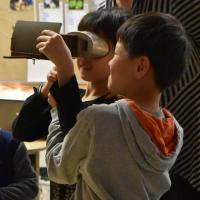 Big Ideas
Our communities are diverse and made of individuals who have a lot in common.
Rights, roles, and responsibilities shape our identity and help us build healthy relationships with others.
Stories and traditions about ourselves and our families reflect who we are and where we are from.
Healthy communities recognize and respect the diversity of individuals and care for the local environment.
Our rights, roles, and responsibilities are important for building strong communities.
Canada is made up of many diverse regions and communities.
Local actions have global consequences, and global actions have local consequences.
People from diverse cultures and societies share some common experiences and aspects of life.
British Columbia followed a unique path in becoming a part of Canada.
Demographic changes in North America created shifts in economic and political power.
The pursuit of valuable natural resources has played a key role in changing the land, people, and communities of Canada.
Canada's policies and treatment of minority peoples have negative and positive legacies.
Immigration and multiculturalism continue to shape Canadian society and identity.
Contacts and conflicts between peoples stimulated significant cultural, social, political change.
Exploration, expansion, and colonization had varying consequences for different groups.
COVID Precautions
Coquitlam Heritage will work with the teacher to ensure that all safety guidelines for the classroom are adhered to. Artifacts will be properly sanitized after each visit and presenters will wear masks and physically distance according to appropriate guidelines.
Additional Notes
This program is offered in French and in English