Mountain Sustainability
Last updated on
Thursday, November 9th, 2023
Experience type:
In-Person
Program Description
A collaboration between Sea to Sky Gondola, Mountain Research Initiative, Geo Mountains, the University of Calgary, and the Arctic Institute, our Mountain Sustainability Program is designed for learners of all ages. Students take a global view of mountains around the world and initiatives in mountain resilience, examining how mountains are created, what changes them, and the shared responsibilities of mountain stewardship. We make the most of our unique subalpine environment with hands-on activities on weather, glaciers, and biodiversity. In support of the United Nations declaration that 2022 is the International Year of Sustainable Mountain Development, the program is built around the question "What do mountains mean to you?" #mountainsmatter 
Students who have already done our course, can try our new mountain sustainability case studies on wildlife counts and nature-based solutions like ecological restoration.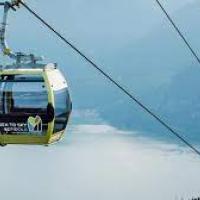 Big Ideas
Daily and seasonal changes affect all living things.
Plants and animals have observable features.
Living things have features and behaviours that help them survive in their environment.
Observable patterns and cycles occur in the local sky and landscape.
Living things have life cycles adapted to their environment.
Materials can be changed through physical and chemical processes.
Water is essential to all living things, and it cycles through the environment.
Living things are diverse, can be grouped, and interact in their ecosystems.
Wind, water, and ice change the shape of the land.
All living things sense and respond to their environment.
Earth materials change as they move through the rock cycle and can be used as natural resources.
Earth and its climate have changed over geological time.
Evolution by natural selection provides an explanation for the diversity and survival of living things.
The theory of plate tectonics is the unifying theory that explains Earth's geological processes.
The biosphere, geosphere, hydrosphere, and atmosphere are interconnected, as matter cycles and energy flows through them.
Healthy communities recognize and respect the diversity of individuals and care for the local environment.
We shape the local environment, and the local environment shapes who we are and how we live.
Individuals have rights and responsibilities as global citizens.
Local actions have global consequences, and global actions have local consequences.
People from diverse cultures and societies share some common experiences and aspects of life.
Complex global problems require international cooperation to make difficult choices for the future.
Economic self-interest can be a significant cause of conflict among peoples and governments.
Human and environmental factors shape changes in population and living standards.