Precious Pollinators
Last updated on
Thursday, December 3rd, 2020
Experience type:
In-Person
Program Description
Many of us have an idea about the importance of pollinators, and how they're necessary for ¾ of our major food crops. But who exactly is doing all the pollinating around here? People often first think of honeybees, and that's our starting point for this tour: visiting Loutet Farm's two resident hives and getting the basics of pollination down. But there's so much more to it than that! Students will get a chance to try their own hand at the process while identifying different parts of flowers, both wild and cultivated. We'll talk about the importance of a diversity of pollinators and their associated habitats, how evolution plays a part, the struggles facing pollinators, and what we can do to help.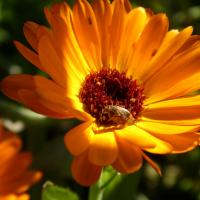 Big Ideas
New experiences, both within and outside of school, expand our career skill set and options.
Safe environments depend on everyone following safety rules.
Daily and seasonal changes affect all living things.
Humans interact with matter every day through familiar materials.
Plants and animals have observable features.
Living things have features and behaviours that help them survive in their environment.
Living things have life cycles adapted to their environment.
Living things are diverse, can be grouped, and interact in their ecosystems.
All living things sense and respond to their environment.
Evolution by natural selection provides an explanation for the diversity and survival of living things.
Healthy communities recognize and respect the diversity of individuals and care for the local environment.
We shape the local environment, and the local environment shapes who we are and how we live.
Individuals have rights and responsibilities as global citizens.
Local actions have global consequences, and global actions have local consequences.
COVID Precautions
The Edible Garden Project is welcoming groups under 30 participants for in-person outdoor field trips to Loutet Farm. Groups may be further split up to ensure adequate physical distancing is maintained. Tools will not be shared if used during a trip, and are always washed and disinfected after handling. There is a hand washing station on site, and next door at Loutet Park (where washrooms are also located).
Additional Notes
All tours available by request during most daytime hours, and duration can be tailored to your group's needs (price will vary accordingly). Contact EGP to inquire further. 
Loutet Farm is located beside Loutet Park in North Vancouver. Washroom facilities are available while the park is open (generally from sunrise to sunset). Although we do not have an official lunchroom, the farm does have a covered area with a sink, handwashing station, and food prep area if needed.