A Walk on the Wild Seed
Last updated on
Friday, May 14th, 2021
Experience type:
In-Person
Program Description
What's the story of the plants we eat? Students will explore the journey of a vegetable from seed to plate, studying the seeds of plants grown on the farm, learning about their unique differences. Through a guided tour, students will see plants in different stages of their reproduction and their life cycle, relating this knowledge to our choices about what we eat in which season, and why that may be. As always, there's a chance for hands to get dirty after touring our farm, where we experiment with seed saving and understanding local adaptations. Students will harvest or plant seeds either at the farm, or to take home and plant in their own gardens or patios.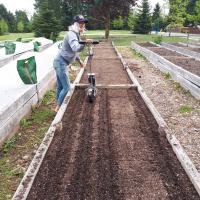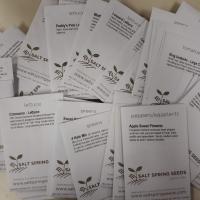 Big Ideas
New experiences, both within and outside of school, expand our career skill set and options.
Safe environments depend on everyone following safety rules.
Daily and seasonal changes affect all living things.
Plants and animals have observable features.
Living things have features and behaviours that help them survive in their environment.
Observable patterns and cycles occur in the local sky and landscape.
Living things have life cycles adapted to their environment.
Living things are diverse, can be grouped, and interact in their ecosystems.
All living things sense and respond to their environment.
Energy can be transformed.
Evolution by natural selection provides an explanation for the diversity and survival of living things.
We shape the local environment, and the local environment shapes who we are and how we live.
Individuals have rights and responsibilities as global citizens.
Local actions have global consequences, and global actions have local consequences.
COVID Precautions
The Edible Garden Project is welcoming groups under 30 participants for in-person outdoor field trips to Loutet Farm. Groups may be further split up to ensure adequate physical distancing is maintained. Tools will not be shared if used during a trip, and are always washed and disinfected after handling. There is a hand washing station on site, and next door at Loutet Park (where washrooms are also located).
Additional Notes
All tours available by request during most daytime hours, and duration can be tailored to your group's needs (price will vary accordingly). Contact EGP to inquire further. 
Loutet Farm is located beside Loutet Park in North Vancouver. Washroom facilities are available while the park is open (generally from sunrise to sunset), and are wheelchair accessible. Although we do not have an official lunchroom, the farm does have a covered area with a sink, hand washing station, and food prep area if needed. Regardless, please dress for an outdoor trip and consider potentially variable coastal weather.
There is free paved parking near the entrance to the farm (lot shared by Loutet Farm, Loutet Park, and Gerry's Garden). Once inside the farm, paths are wood chips, and there are no steep inclines on site. We may also use the dirt trails of the forest and/or the grass field during the field trip. There are no animals on site, but other allergens may be present - please contact EGP directly at schools@ediblegardenproject.com if you have questions or concerns.