Wolf visit to School - called Wolf Walk in the Forest
Last updated on
Tuesday, January 19th, 2021
Experience type:
In-Person
Program Description
Tundra & I will visit your school if it is within a reasonable travel distance. During the COVID 19 pandemic, this visit occurs outdoors, preferrably in a forested area on your school grounds or nearby. If no such location, then we use your school fields & we improvise that it is a forest. Students & staff get to watch Tundra's behavior & I explain what wolves in the wild would be doing. I tell many First Nation stories & legends about the wolf & why this animal is so important to their culture. I explain the important role the wolf plays in the ecosystem as an apex predator & keystone species. Opportunity for many questions from students & staff. Cost is $100 for the walks & travel expenses to the school.
If your school is too far away, I can over a ZOOM version of this program where the same material is covered & the students & staff get to see the four wolves our centre has.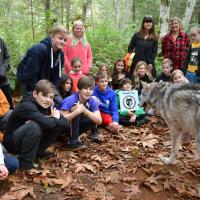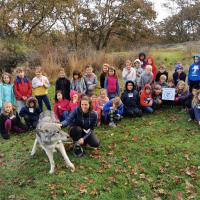 Big Ideas
Plants and animals have observable features.
Living things have features and behaviours that help them survive in their environment.
Living things have life cycles adapted to their environment.
COVID Precautions
For the ZOOM meetings this is N/A but for the visit to the school, it occurs outside with appropriate social distancing of 6 feet from myself. Schools that I have visited with Tundra have complied with this distancing well. I defer to the school's policy regarding the use of masks.